Coos County Odyssey 2022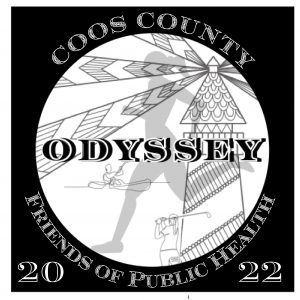 Coos County Odyssey 2022 is a virtual fitness challenge that takes you 216 miles through Coos County, passing 'virtually' through many county towns and scenic locations. Each time you complete an exercise activity such as walking, running, biking, swimming, yoga, dance, paddling, golf, and more, you will advance along the route map, starting on New Years Day at Sunset Bay, and ending at Coos Health and Wellness by the end of April.
Go solo or start a group or team to help each other stay motivated to go the distance.
Take the challenge and sign up to today to start your Coos County Odyssey on January 1, 2022. To sign up, go to CCFoPH.org and click on the link on the home page.
Coos County Odyssey 2022 is a fundraising event sponsored by the Coos County Friends of Public Health to support the Coos Health & Wellness "Women, Infants, and Children" (WIC) program designed to help families improve their health outcomes.
Sat January 1 - Sat April 30 2022
Coos County Friends of Public Health
Coos Bay, OR US 97420
"Race" around Coos County in this virtual odyssey that will take the participants through some of the most unique locations in the county. Participants can exercise in a number of different ways to earn miles on the virtual platform. Form teams and compete with your friends and family to start the year off right achieving your fitness goals, while helping families get access to nutritious food. The Friends of Coos County Public Health are hosting this event and all proceeds will go to the Women, Infant, Child (WIC) program benefiting expecting mother's and children.
If you have any questions about this race, click the button below.
Race Participant Survey
Please complete the following survey to help us better understand your race experience.