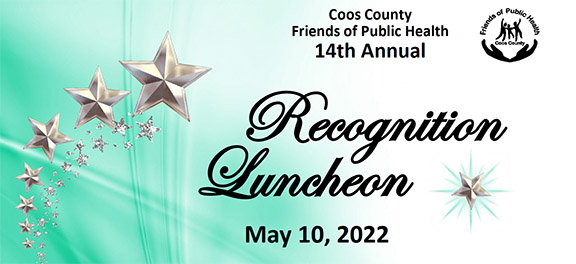 The Coos County Friends of Public Health Invite you to join us as we honor the Super Stars in our Community.
These Superstars have shown outstanding dedication to improving health in Coos County.
Time: 11:30 am to 1:00 pm
Place: Black Market Gourmet, 495 Central Ave. Coos Bay
Menu: Taco Bar (chicken, fish, & vegetarian)
Cost: $25 Each
NOTE: All seats have been reserved. Use the link below only if you have reserved, but haven't paid yet.
Pandemic Response Super Stars
Bay Cities Ambulance
Coos Bay Fire Department
Coquile Indian Tribe
Kat Burgess & Reneé Menkens, Medical Reserve Corps
Becky Fairhurst, Lena Hawtin & Kelsey Orr, Coos Health&Wellness
Community Super Stars
John Lemos, Kids Hope Center
Stephanie Polizzi, OSU Extension Nutrition
Alissa Pruess, Advocate for Women's Health
Barbara Van Slyke, Advocate for Health Care